Welcome to Hillside
We welcome you to join us as we learn together what it means to live a life transformed by God.
WEEKLY SERVICE TIMES:


Join us this Easter!
We invite YOU to join us on April 9th as we w

orship our risen Savior together!
"He is not here, but is risen!"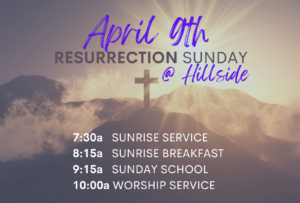 Meet our Savior
We believe that the greatest gift one will ever receive is the gift of Jesus.
Want to know if you're headed to heaven when you die? Curious to know what a real Christian is? Click here to learn what God says about these important questions.
UPCOMING
EVENTS:
Young Adult Fellowship
March 24
All Church Work Day / Spring Cleaning
March 25
1st Sunday Carry-In
April 2

"You are the light of the world. A city that is set on a hill cannot be hidden."