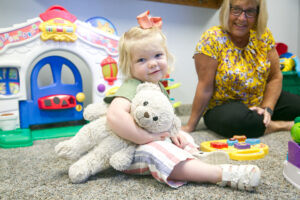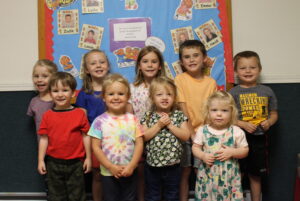 Children's Ministry
Offering opportunities for newborns through 5th grade students, our Children's Ministries exist to expose our kids to the life-changing power of the Gospel of Jesus Christ. With fully vetted volunteers, we are proud to serve the families of our communities.
Our top priority is the safety and wellbeing of your child. Our incredible team have all been through a full background check. We take allergies, medical conditions, and unique needs seriously.
You can be assured that we have policies and procedures in place that emphasize your child's safety.
We utilize specific curriculum to teach the Bible to children in a relative and engaging manner.
Your children are always welcome to participate in our Children's Ministries; however, if you would prefer for your children to join you in service, we welcome you to keep them with you, no matter the age.
Nursery
Our nursery is designed for infants to toddlers, age 0-2, and is available during Sunday School, Sunday Worship Service, and Wednesday Evening Service.
Sunday School
SUNDAYS @ 9a
Using Strong Kids Curriculum, we offer age-appropriate classes for children age 2-5th Grade. Each of our teachers provides a unique learning environment focused on discipleship.
Jr. Church
SUNDAYS @ 10a
Available during Sunday Worship Service, our Jr. Church class is designed for children ages 30 months – PreK. Using Strong Kids Curriculum, this class reinforces the lessons taught during our Sunday School hour and offers free play activities.
Kids' Church
SUNDAYS @ 10a
Using Answers Bible Curriculum, Kids' Church is dismissed during Sunday Worship Service and provides a time of biblical learning for children in K-4th Grade.
5th graders are encouraged to begin sitting with family during the morning message.
Gopher Buddies
WEDNESDAYS @ 7p
Using Word of Life Curriculum, age 2-K children are considered "Gopher Buddies" and enjoy weekly Bible Stories, games, and songs. They are challenged to dig deeper into God's Word by memorizing it and on occasion receive surprise visits from the Gopher Family to help reinforce their lessons.
Olympians
WEDNESDAYS @ 7p
Using Word of Life Curriculum, 1st-5th Grade children are challenged to grow during our weekly, Biblical teaching in a relaxed environment which incorporates worship, lesson Scripture Memory, games, and special events.