Age 4 – Completed 5th Grade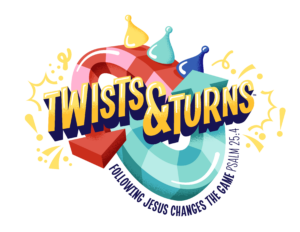 Thank you to all of the families and volunteers that were involved in VBS 2023! You all definitely brought your A-game as we learned to navigate the Twists and Turns of life with Jesus as our guide! Through interactive lessons, music, games, and so much more, we learned from Peter that even when we make mistakes, it is never "Game Over."
Stay tuned for more info about VBS 2024!
Want your child to come, but you don't have a way to get them there?
We have limited space available to pick up children this year!
Contact us today to get on our transportation list!
What to expect at a Hillside VBS:
1. FUN – With interactive songs, daily games, and creative learning activities, kids have a blast!
2. FOOD
– Each child will receive a lunch every day. Please don't hesitate to contact hillsidebaptistoffice@gmail.com to discuss your child's specific needs.
3. SAFETY – Each volunteer is carefully screened and adults undergo a BCI background check. Allergy precautions, more than one leader in each room, and careful check-in/check-out processes help to ensure your child's safety.
4. MULTICULTURAL LEARNING – Kids will enjoy learning about other cultures of the world outside of our community.
5. RELEVANT BIBLE TEACHING – We use age appropriate teaching techniques so classes learn to apply Biblical truths to their lives.
6. BREAK FOR YOU – We recognize that you need a break sometimes, so let us provide that for you!