If you have specific clothing needs throughout the year, please contact us.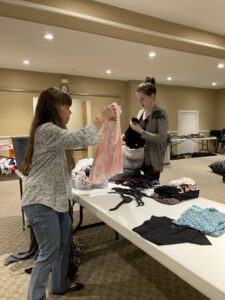 Want to donate clothes?
CLEAN, GENTLY USED

clothes can be dropped of before July 27th on Tuesdays, Wednesdays, or Thursdays between 9:30a-3:00p. Enter the doors under the carport and drop of clothes under the coat hanging racks.
What to Expect the Day of the Event

:
For this event, we turn our Fellowship Hall (located on the bottom level) into a giant, free clothing closet!
Simply enter our building and be greeted by our check-in staff. You may be asked to wait your turn, but our lines move quickly.
Each person/group that comes will be given a personal shopper that will help you find the sizes that you are looking for.
We provide disposable bags to place your clothes into, and we will even help you load into your car, as needed.
Have children with you? No Problem!
We offer a childcare room (connected to the fellowship hall) with activities and supervision of children while you shop. Children are always welcome to join you as you shop, if that is preferred.
More than just clothes…
We will also have breakfast snacks (donuts, muffins, fruit, coffee, etc.) available for you to enjoy while you are here! For our August 5, 2023 giveaway, we also plan to provide a school supply pack to families with school-age students
(while supplies last).
With clothes for infants, children, teens, both men and ladies, shoes, coats, hats, and gloves, we desire to provide something for everyone!
All items are free! There is no charge to receive clothing or snacks.
Pictures from our 2022 event

: